Do you keep yourself small and hide your True Self from the world?
Do you feel you lack the power and confidence to follow your dreams?
Do you feel others somehow 'have what it takes' and you don't?
Then the RISE & SHINE coaching program might be created for you!
EXPLORE. RISE above. SHINE.
Become conscious and learn to let go of the unconscious blocks that are holding you back and step into your most powerful, passionate and alive self! Over the span of 6 months, you will shift your perception and embody a new way of being that is aligned with your own source of power within. You will shift from being directed by what you think others expect from you and start to lead yourself with confidence!
This signature Sisterhood coaching 6-month coaching journey was created to help you re-connect to the amazingly powerful and confident YOU that you've deep down always been, to reclaim your passion, and create a life that fills you will gratitude every day.
It is time to listen to the little voice that says it is time to STOP playing small and missing out on feeling more YOU, more alive, more joyful and more confident!
It is time to let go of old unconscious programming that is holding you back so that the REAL FABULOUS YOU can RISE & SHINE for all to see!
This is not your typical online coaching program. It's not just learning about transformation, it's about starting your transformation from the moment you sign up. Imagine you are a caterpillar about to cocoon into your chrysalis, to eventually emerge like a butterfly, just like that!
During the 6 months, International Executive & Transformational coach and creator of this program, San Silbernagl will guide and coach you through the 3 stages of the RISE & SHINE transformational journey:
STAGE 1 - FOUNDATION FOR CHANGE -You will experience a deep dive into the core of what is blocking you
STAGE 2 - RISE- learn to let go of old programming & change your perception
STAGE 3 - SHINE - use techniques and do practices that allow you to step confidently into the bigger, brighter YOU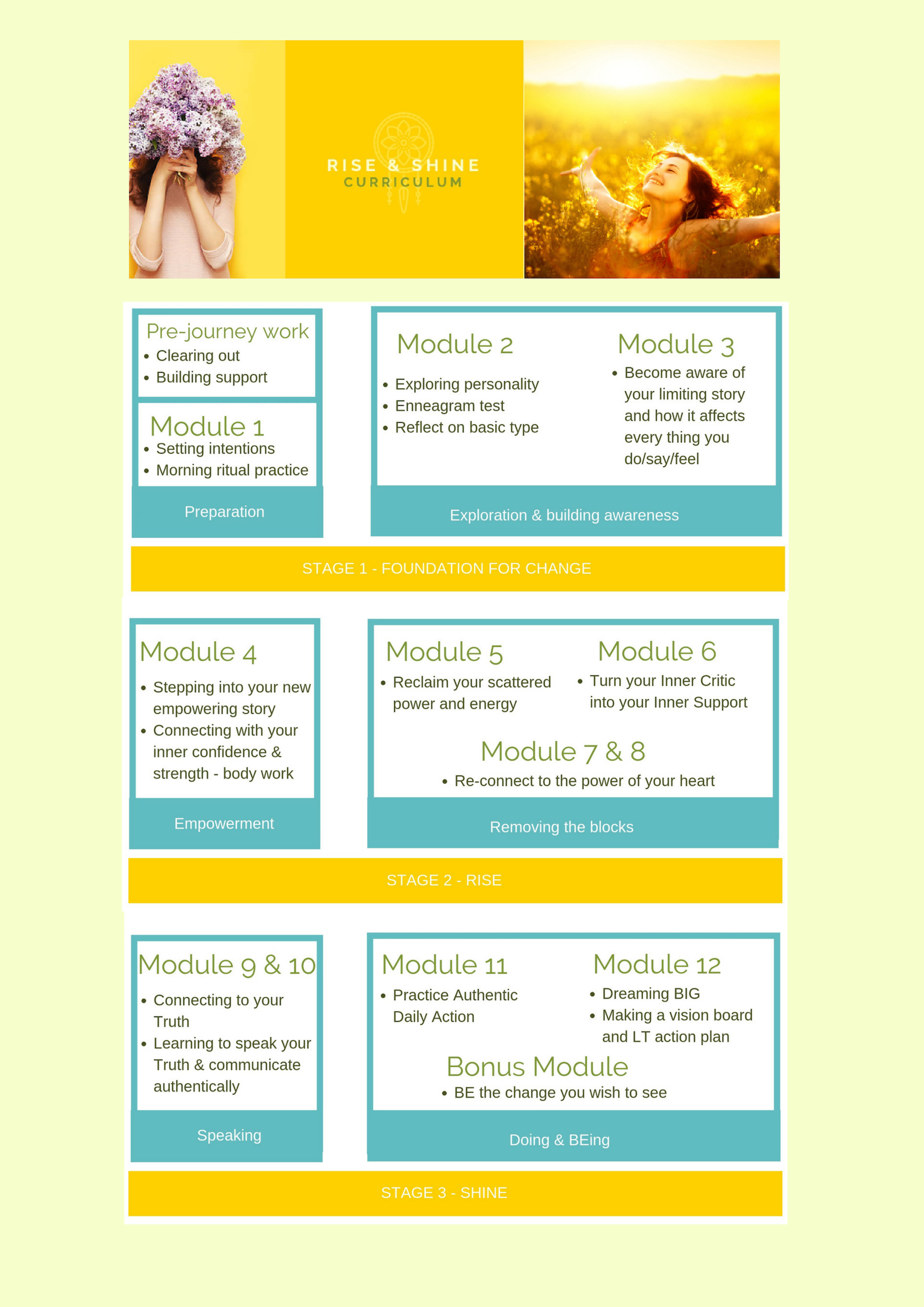 How does the program work?
there are 12 modules, you will receive access to a new module every other week
each module starts with a video in which San will explain the concept(s) you will be working with in the next two weeks followed by coursework to deepen your understanding, awareness and practice your new way of being in the world.
depending on the module the coursework can exist of a combination of the following: self observation(s), reading, video, exercise, practice(s), journaling reflection, artwork/drawing, meditation, a fire ceremony, dancing & singing (yes we are also going to have some great fun!) etc.
The journey comes with a build-in support system so you won't be walking this journey alone, you will receive:
a Sister-buddy with who you will have bi-weekly check-ins
The Sisterhood, a secure forum for sharing and support, made up of all the fabulous women on the journey
personal guidance and coaching from San via The Sisterhood, email, WhatsApp and Skype
So, are you ready for your transformation? Ready to:

Then SIGN UP BELOW to join us for our next adventurous and fun transformational coaching journey starting on 1 March 2019!