You KNOW you are destined for MORE
You KNOW you have been dimming your Light
You KNOW you long to let your Soul shine freely
You know your days as a caterpillar have (long) expired but:

you might feel that you somehow don't have what it takes to step into yourself fully.
you might not have clarity of what this even means.
you might feel you lack confidence, knowledge or even energy.
or you don't want to rock the boat as you are scared of what the change will bring you and the people around you.
you might feel that you should just be happy with what you have already as life is pretty ok most of the time.
you might even feel that you are nobody special so who do you think you are, to want more, what do you have to offer?
But still there is this longing.. this calling... for more, more meaning, more Soul expression..
If this sounds like you, I invite you to join your Sisters on a 6 months online transformational coaching journey and learn to let go of the resistance and unconscious blocks that are holding you back from stepping into the highest and brightest version of yourself.
Why? Because you did not come here to just survive your life, to play small and dim your light. You came her with a mission, a purpose and that is to be as much you as you can be and offer that YOU to the world, without hiding, dimming or pretending!
So stop playing it safe and waisting your precious time! You have a role to play, a song to sing, a book to write, a service to offer, whatever it is, you might not even know it yet, you have something to add to this beautiful tapestry called life. We are all waiting for you to show up fully and shine your unique light into the world (I am sure you have noticed the state she is in right? We need all the light that we can get, so hurry up)!
EXPLORE. RISE above. SHINE.
Over the span of 6 months, I will help you shift your perception about who you are and embody a new way of being that is aligned with your Soul longing.
You will shift from being directed by what you think others expect from you and start to follow yourself with confidence! You will re-connect to the powerful YOU that you've deep down always been so you can reclaim your voice, learn to express your unique gifts and create a life that fills you with gratitude every day.
This is not your typical online coaching program. It's not just learning about transformation, it's about starting your transformation from the moment you sign up. Imagine you are the caterpillar about to cocoon into your chrysalis, to eventually emerge like the beautiful butterfly she was longing to be, just like that!
During the 6 months I will guide and coach you through the 3 stages of the RISE & SHINE transformational journey: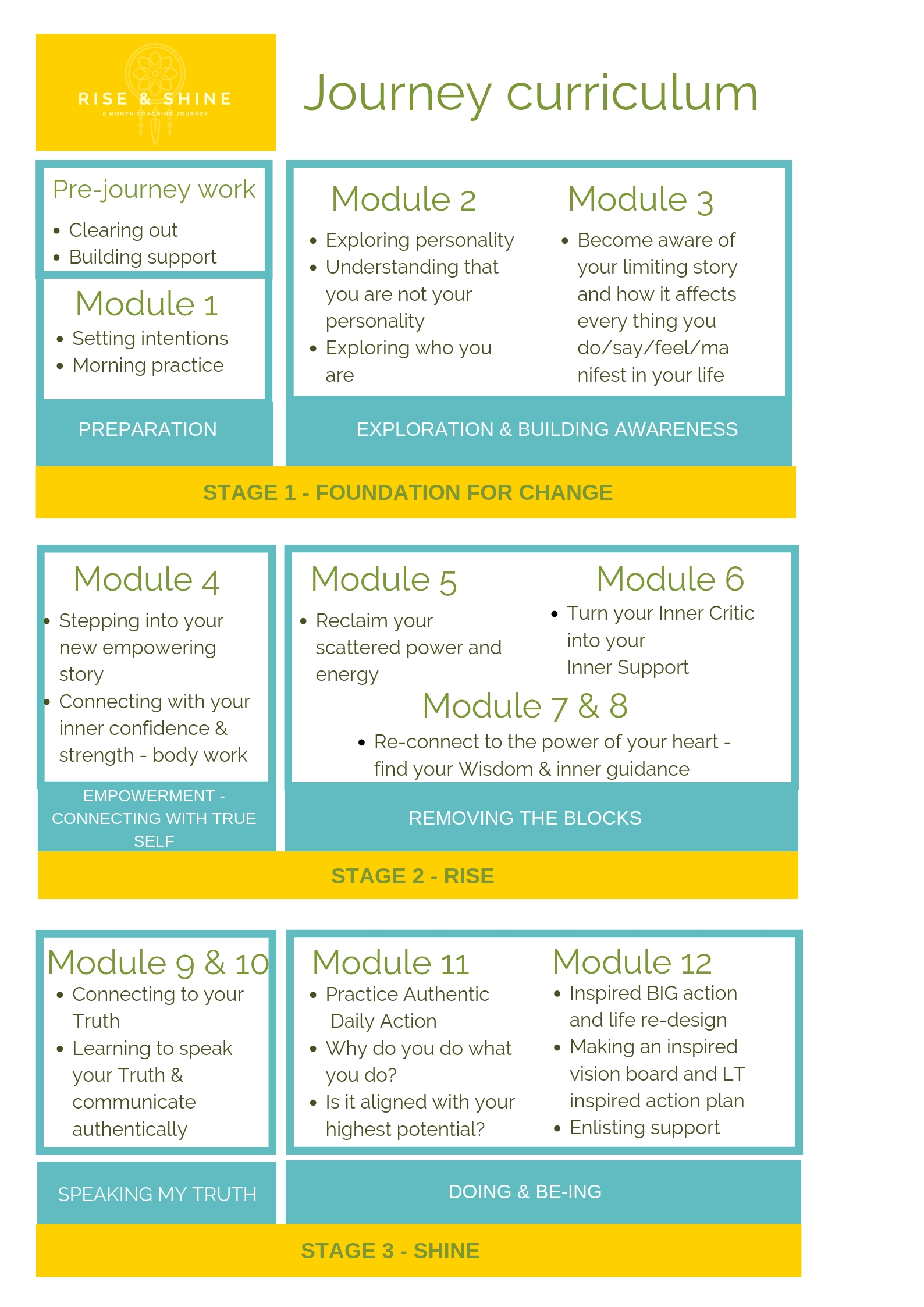 STAGE 1 - FOUNDATION FOR CHANGE -You will experience a deep dive into the core of what is blocking you and build your awareness, the key to any change!
STAGE 2 - RISE- learn to let go of old programming & change your perception of who you are
STAGE 3 - SHINE - use techniques and do practices that allow you to step confidently into the more authentic, brighter YOU
How does the program work?
There are 12 modules and you will receive access to a new module every other week.
Each module starts with a video in which I will explain the concept(s) you will be working with in the next two weeks followed by coursework to deepen your understanding, awareness and practice your new way of being in the world.
Depending on the module, the coursework can exist of a combination of the following: self observation(s), reading, video, exercise, practice(s), journaling, reflection, artwork/drawing, meditation, a fire ceremony, dancing & singing (yes we are also going to have some great fun!) etc.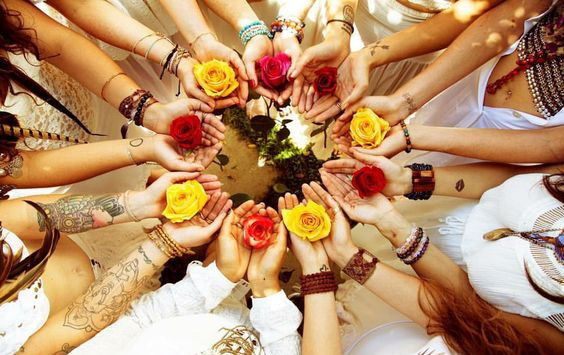 The journey comes with a build-in support system and so you won't be walking this journey alone, you will be supported by:
two Sister-buddies with who you will have bi-weekly check-ins
The Sisterhood, a secure forum for sharing and support, made up of all the like-minded, gentle women with the same longing on the journey
personal guidance and coaching from me via The Sisterhood, email, WhatsApp and Skype
So, are you ready for your transformation? Ready to be MORE YOU and let your Soul shine freely?
Then I would love you to join us on our next journey!
'Hmmm, all sounds exciting but also (a little) scary and out of your comfort zone?'
Exactly, magic and Soul shining are generally found outside of your comfort zone so this is a good sign! Feel the fear and sign up anyway, you won't regret it, I promise!
The good news is, when you Sign up below you can start your journey immediately because you will receive your pre-course work straight away. The rest of the program will kick off on the 2nd of July (as new moon is always a great time for new beginnings!).
Not sure or have some questions? Please send me an email (san@sisterhoodcoaching.com) and we can schedule a Skype conversation to chat and get to know each other a bit better before you sign up for your journey.
Looking forward to Rising & Shining together!
Your Soul and your Tribe (which includes me ; ) are waiting to serve, support and guide you!
Love, San